Monday, December 7th, 2009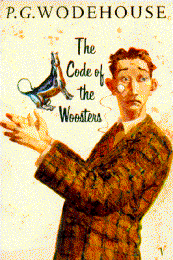 I am a tremendous fan of P.G. Wodehouse but I don't know many people who have read as much of his work as I have (plus I've got a several audiobooks that I listen to often) so I thought I'd occassionaly share some of why I love P.G. Wodehouse.
In Code of the Woosters, Madeline Bassett ("the Bassett" – a ghastly girl, a 'droopy, soupy, sentimental exhibit, with melting eyes and a cooing voice and the most extraordinary views on such things as stars and daisy chains') is convinced, (wrongly, of course), that Bertie Wooster has come to Totleigh Towers due to undying love for her.
"Why did you come? Oh, I know what you are going to say. You felt that, cost what it might, you had to see me again, just once. You could not resist the urge to take away with you one last memory, which you could cherish down the lonely years. Oh, Bertie, you remind me of Rudel."

The name was new to me.

"Rudel?"

"The Seigneur Geoffrey Rudel, Prince of Blay-en-Saintonge."

I shook my head.

"Never met him, I'm afraid. Pal of yours?"

"He lived in the Middle ages. He was a great poet. And he fell in love with the wife of the Lord of Tripoli."

I stirred uneasily. I hoped she was going to keep it clean.

"For years he loved her, and at last could resist no longer. He took ship to Tripoli, and his servants carried him ashore."

"Not feeling so good?" I said, groping. "Rough crossing?"

"He was dying. Of love."

"Oh, ah."

"They bore him into the Lady Melisande's presence on a litter, and he had just strength enough to reach out and touch her hand. Then he died."

She paused, and heaved a sigh that seemed to come straight up from the cami-knickers. A silence ensued.

"Terrific", I said, feeling that I had to say something, though personally I didn't think the story a patch on the one about the travelling salesman and the farmer's daughter. Different, of course, if one had known the chap.