June 13th, 2006 by amy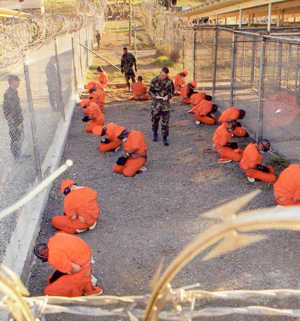 Three men committed suicide at Guantanamo Bay earlier this week.
There have been at least 40 officially acknowledged suicide attempts at the camp. Out of the 759 people detained since 2002, approximately 465 people are still being held. Some have been imprisoned there for more than four years and many have had no access to legal counsel or their families. Only 10 have been charged with any offense. In January 2004, the US released three children between 13 and 15 years old.
There have been widespread reports of abuse from prisoners and the Red Cross cited activities it said were "tantamount to torture." According to Wikipedia 'A report based on data supplied by the Defense Department showed that 86% of the prisoners were handed over by Afghan and other local bounty-hunters rather than as the result of any American investigation or collection of intelligence. It is alleged that because the bounty-hunters were compensated per-capita, they detained innocent civilians in order to maximize their profits.'
The BBC stated that one of the men who committed suicide was due to be freed but had not been informed.
The EU and UN, amongst many others, have called for the closing of Guantanamo.
Ali Abdullah Ahmed, was 28, Mani Shaman Turki al-Habardi Al-Utaybi was 30 years old. Yassar Talal al-Zahrani was 21 years old.